Happy Birthday Mickey !
This year, our beloved Mickey Mouse turns 90. For almost a century, the emblematic Disney character has captured the imaginations of children, through movies, comic books,Disney licensed products, and of course, visits at Disney amusement parcs around the world. But the Mickey we know today hasn't always looked the same. Shall we go down memory lane and see how he grew up?
Mickey appears on screen for the first time (Plane Crazy, 1928)
Mickey's designer, Ub Iwerks, focused on using circular shapes to make the character easy to animate. It is the reason behind the world famous silhouette of Mickey Mouse's head.
First Changes (Steamboat Willie, 1928)
Our favorite character starts wearing shoes and has his eyes get their first rework (an element that will often evolve through out the years).
More accessories! (The Karnival Kid, 1929)
Mickey buys gloves and his creators continue experimenting with his eyes. The quality of the animations continuously improves. 
Color! (Mickey's Garden, 1935)
With technological advances, colour movies become a reality. As a result, this is the first time we see Mickey in colour.  
Getting tanned! (Lonesome Ghosts, 1938)
Mickey's skin tone changes, becoming slightly more colorful and the buttons on his pants become grey. Only his gloves remain white.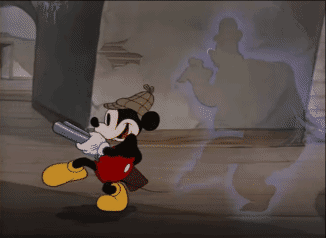 Mickey Mouse is growing up (Mickey's Surprise Party, 1939)
The Mickey Mouse design as we know it today finally starts to appear. Furthermore, some details are added, like pupils in his eyes.
"It's just a phase" (The Simple Things, 1953)
Mickey shows us a unique appearance sporting eyebrows, something we will not see again.
Return to the basics (Mickey's Christmas Carol, 1983)
Mickey is back to a style inspired by the 40's, a style that will remain the most commonly associated with the character.
New technologies, new look (Mickey's Twice Upon a Christmas, 2004)
With the advent of CGI, Mickey and his friends are showing us a new 3D appearance. 
Retro is chic (Mickey Mouse, 2013)
In the eponymous movie, Mickey Mouse's design goes back to its 20's roots while still keeping details and a rich background.  
At Willtech Gift, we are wishing a very Happy Birthday to Mickey and are proud of being part of the adventure as Certified Disney Manufacturers. Thanks to our 10 years of experience with Disney licensed products and our FAMA certification, we are capable of helping you design and manufacture a wide range of Disney themed decorated products and gifts. 
Curious about Willtech Gift's Disney products?